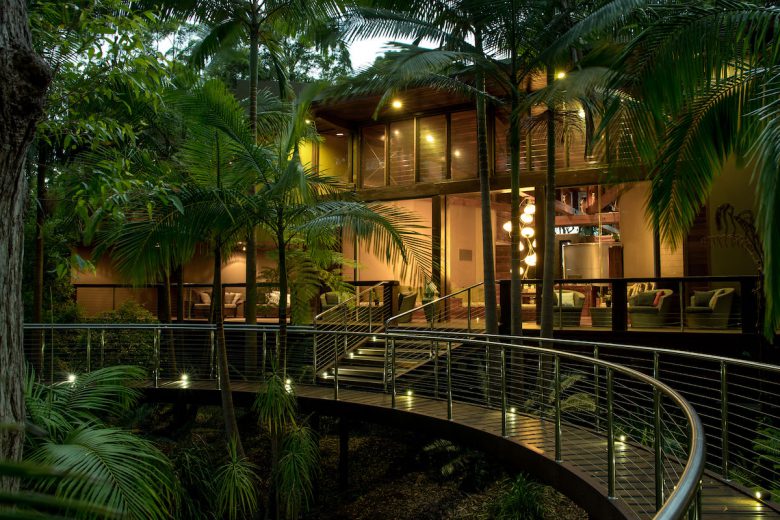 A new partnership between MECCA and Gwinganna Lifestyle Retreat aims to bring wellness into our everyday world.
Nestled amongst the valleys of the Tullebudgera in Southern Queensland, Gwinganna is one of Australia's leading health resorts. On offer is an inclusive experience for the mind, body and soul at a wellness destination that's a relaxing retreat from the pressures of the modern world.
Contrasted with the bustling streets of Sydney's CBD and the Southern Hemisphere's biggest beauty destination, MECCA's new Sydney retail flagship, it's hard to imagine how two such different experiences can come together. Alas, they have.
Gwinganna is bringing two of its signature therapies to MECCA's George St flagship store. It's part of the retail giant's new campaign MECCALIFE, and follows the announcement of beauty and wellness services at the Gowings Building location late last year.
With a focus on the self, not the selfie, the campaign aims to recognise the power of beauty to support wellness. So, partnering with the pinnacle of Australian health and wellness, Gwinganna, simply makes sense.
"This unique new collaboration is part of a campaign where MECCA aim to bring wellness to life, within the context of the everyday world," shares Gwinganna representative, Tracy Willis.
"Within the largest dedicated beauty retail destination in the Southern Hemisphere, their new Sydney flagship store, the aim was to deliver a unique high-level spa offering to their guests as part of their carefully selected services.
"The opportunity for Gwinganna to help deliver this offering was a first for us also and something we felt aligned well for Gwinganna."
Gwinganna's signature touches inform every step of the experience
Both of the Gwinganna treatments on offer begin with an intention ceremony, an important ritual that allows the therapist to connect with your needs, set intentions and guide you through the appropriate treatment.
As for the treatments, The Gwinganna Signature Experience, specifically created to bring the best of Gwinganna to MECCA, uses hot stones, Kahuna and remedial massage along with sound healing as your body's vibration is brought to a place of alignment.
The Gwinganna Pure Tranquillity treatment is taken straight from the retreat's menu. It uses a fusion of esoteric practices and localised massage techniques, so expect energy cleansing, a foot bath, Indian head massage, body reading and chakra awareness.
Offered as 80-minute sessions, the MECCA X Gwinganna treatments are availble every Friday, Saturday & Sunday for six weeks, from Friday April 30 until Sunday June 6 2021.
The meeting of worlds between MECCA's thriving retail hub and Gwinganna's sanctuary of wellness highlights the importance of delivering holistic beauty experiences in our modern day life. And that the accessibility of luxury beauty and wellness experiences may be the future of the retail landscape.   
DID YOU KNOW
There are 5 ways you can catch up with SPA+CLINIC?
Our quarterly print magazine, delivered to your door. Subscribe here.
Our website, which is updated daily with its own completely unique content and breaking news.
Our weekly newsletter – free to your inbox! Subscribe here.
Our digital magazine – click here to view previous issues.